OK, much has been written about removing the hydrobushing from a front control arm on the S197.
Most of what I've seen involves sawzalls, torches and a mess.
Why remove the hydrobushing?
As an AI racer..... a friend already had the Kenny Brown K-Member and controls arms but after a couple arms cracked and during each race weekend at least one bushing split and fell out, and with KB not willing to build delrin bushings. ………maybe because KB knows the delrin wouldn't work because the arms don't line up just so and the arms need the urethane because of the miss alignment….but hey let's looks at the easy way to remove that pesky bushing.
You say you have the KB stuff and the k-member/arms are the greatest thing since white sliced bread..... well when you can capture the pole at Sebring with mid 2:25's you'll be running hard enough.
What will they be replaced with? The Ford Racing Bushing Kit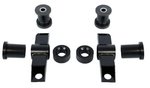 What do you need? Only a big ass hydraulic press the one we used was a 40 ton, but we only used about 13 tons…………….
Here's the arm, yes it's the old style he's got new ones we used this one as a test mule.
Placing a collar around the bushing.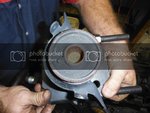 Arm setup on the press.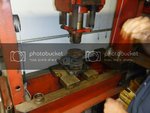 Insert placed on the arm's pivot point.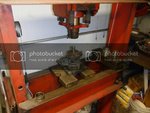 Exert force until the arm starts to slide out of the bushing.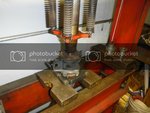 There it is! Arm removed from the bushing no sawzall, no torch, no removing fluid.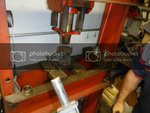 Next up: Using a stock lower control arm I'll show you how to make a set of Ford Racing Boss 302 R/S Control Arms using the Howe Racing screw in ball joint adapter and a rebuildable screw in ball joint.