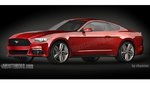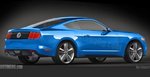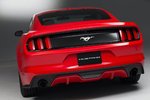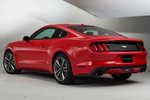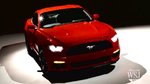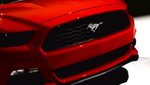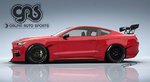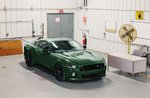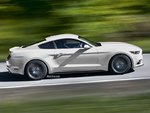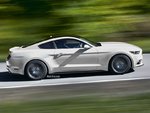 http://www.foxnews.com/leisure/2013/10/18/is-this-2015-ford-mustang/
Is this the 2015 Ford Mustang?
Published October 18, 2013/
FoxNews.com
mustang6g-660.jpg
Mustang6G.com/chazcron
The still secret 2015 Ford Mustang isn't expected to be officially unveiled for a few more weeks, but one website may have already unwrapped it.
Enthusiast site Mustang6G.com has published a series of renderings of the sixth-generation pony car that it says are based on actual CAD images of the vehicle, combined with information gleaned from photos of prototypes recently caught testing by spy photographers.
If accurate, the renderings show a design that's derivative of the current Mustang's while adding modern touches previewed by the Ford Evos Concept first shown in 2011; steely-eyed headlights, deeply-chiseled bodywork, a faster roofline and louvered taillights it's most distinguishing styling elements.
Although Ford hasn't even yet confirmed a new Mustang is on the way, rumor has it that photos will be revealed in December and that it will make its public debut at the Detroit Auto Show in January.
Reports are that the 2015 Mustang will be available with updated, more powerful versions of the 5.0-liter V8 and 3.7-liter V6 engines found in the current car, plus a 2.3-liter turbocharged aimed at European sales.
There's also talk of a factory-built 2016 Shelby GT350 model that will appear at the New York Auto Show on April 17, 2014, exactly 50 years to the day of the original Mustang's debut at the World's Fair in New York in 1964.
According to the Chinese Zodiac 2014 is the year of the horse, and it looks like that's exactly what its shaping up to be for sports car fans.
Click here for many more images from Mustang6G.com