continued from above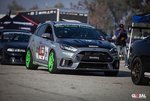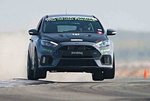 Todd left Vegas and drove straight to California's desert track Buttonwillow for the 2016 Super Lap Battle, a time trial event held by the Global Time Attack organization. The
RS finished 5th out of 9
in the Limited AWD class with a best lap of 2:00.197. Having run with the GTA group and specifically at this track, that's a darn quick time. He also had some "hang time" with the curb jump shown above right.
TODD'S 2016 OPTIMA EVENT VIDEOS
The RS's owner Todd of MyShopAssist made some great videos from a number of Optima events, which I will share below. These include in-car video with data from the autocross, speed stop and track portions of several events:
WHAT'S NEXT?
Todd has run the RS at some of the Optima events in 2017, but I will cover this and future developments in a later post.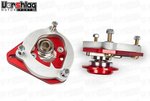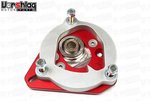 We have already made two production batches of the 3rd gen Focus/ST/RS camber plates, which we are selling to folks that have upgraded to coilover suspension. The Bilstein PSS coilover set we used on Todd's car is being offered for the ST (with our optional springs/perches/rates) and we will make the production parts to fit this to the RS.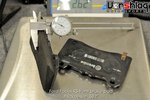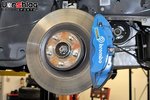 After sending the factory brake pad scans/measurements to G-LOC they made 8 compounds of brake pads for the RS foe use on the front and rear. They sent Todd the first front set in the R12 compound and he said the brakes felt noticeably better. Powerbrake already has a 6 piston, 350mmx34 big brake kit for the ST/RS front which should easily fit inside of the 18x9.5" wheels we spec'd for this car.
Thanks for reading,