[youtube]http://youtu.be/zTtWvcSeW2g[/youtube]
Here's a quick video of Friday's track event at summit point's main circuit.
I only recorded the last session of the day. I found setting up the gopro to be somewhat of a hassle before each session. I had set up an external mic, but last minute I decided to mount the gopro on my helmet, which blocked the USB port. So, heads up, there's some wind noise.
This is my first event in the Boss, so I went down to the novice group just to be safe. As you can see in the vid, I took things very easy and wasn't pushing the car.
Oh and there was a ZL1 there, but again, don't expect a good comparison since we were in the novice group. But I put the pass in the vid,just for you guys
lol. Also, I was ordered by Chris at summit point to make sure I passed the ZL1 ;D
The only mods I had done were the following.
- ATE DOT4 amber fluid
- Carbotech XP12/XP10 combo
- Forgestar F14 18x10 +42
- Hankook RS-3 285/35's all around
- Purolator fuel filter used as temporary differential expansion tank
- Shocks set at 5/4
My impressions of the Carbotech XP12/XP10 pads.
The pads worked flawlessly for me. Great stopping power and easy modulation. I wasn't heel-toe braking, so I can't comment on the modulation during heel-toe. But, I activated the ABS once throughout the day, and it was easy to back out a little for threshold braking. I have yet to check for the amount of pad material left. So, I can't comment on longevity, yet.
I'm confident to say that this compound is not overkill with extreme performance summer tires. Overall, The car felt very stable under heavy braking.
My impressions of Hankook RS-3 285/35/18 square setup.
These tires are awesome! I purchased the set from
Tirerack
, they were having a closeout sale of 2009 production tires. so I got a great deal.
Since I'm new to tracking the Boss, I'm not sure if it's just the tires or the suspension, but the car stuck at turns like glue. Great amount of grip while braking, accelerating, and cornering.
The tires gave plenty of audible signs before letting go, which is great for learning the limits. And they worn down evenly with the stock suspension at this track.
As far as the square setup with the stock suspension goes-it is true-you will experience oversteer alot quicker, specially when you start getting on the gas earlier mid corner. But the oversteer is very manageable and it comes gradually with plenty of warnings. First the tires chirp, then you feel the rear end get light and start rotating.
Overall, if you are just out there to have fun and push a little, you should not have a problem managing the oversteer with the stock suspension. But if you're out there trying to best your time and squeeze a few seconds out of your lap times, then I see how running a square setup on stock suspension will hold you back and be somewhat frustrating.
My plan is to slowly change suspension components to support a square setup at the track. Meanwhile, I'll be taking things easy and rotating the tires for longevity.
Here are a couple of pictures for the lazy people that don't like to read.
Since it gets boring looking at the same car, I'm posting the pics that show the other cars in the class.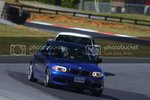 Friend's M5