First off let me say it was a crazy day. Was at the gas station near the track. In filling my tires and I hear a boom, I immediately turned around and see a mini van roll over the sidewalk to the edge of the gas station. My buddy and I ran to them and helped as much as possible. They were stuck sideway and 911 told us to leave them as is unless there was a fire. Glad everyone was ok!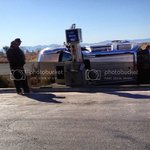 My friend rented a ZL1 for his bday. The car is very impressive. It's NOT as alive and responsive as the boss but god damn! Is that thing planted. It's so smooth around the track. I only did 3 laps, 1 was a warm up and ran a 1:33:4 at big willow. The fastest in my boss ever is 1:32:8 (some mods). Today I ran 1:33:4 in my boss with my ast4150 installed. Now let me say I only was able to run a few good laps as I had the LCA relocation brackets installed and they were rubbing the control arm or sway bar and it caused MASSIVE wheel hop under braking, the whole car would shake and jump. So the next hour was spent taking them off then I only got 3 laps. Now let me say I ran higher speeds on the 2 big sweepers. Went up to 129 (GPS) on turn 8(124 ZL1 HUD) before i only got up to 125.The car felt much flatter, maintained better contact and transitioned much much better, but my tires were very worn and i think tbat really hindered me. So next time i need to come back woth fresh tires and get used to the new suspension to really go at breakig my lap time. I drove to the track on 4 click from the firmest and tracked it like that. I thought I would get sick of it on the street so when I was done I put it on the softest setting and drove home. Probably better then stock like this. So definitely fine for a daily driver and very easy and loud solid clicks when adjusting the dampers.
Again for all the Camaro haters I was highly impressed with the car. The interior is much nicer as we but the roof was so LOW my helmet would hit the roof!!! But just so planted but did make it a bit dull, but very easy to drive fast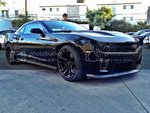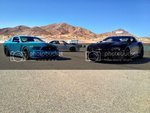 Here is the corner balance sheet.