Racer friends: I have a brand new size 60 alpinestars 2016 gp-race suit. It's too tall for me (6'/210lbs). Includes suit case.
$520 and it's yours. Just going to try to find the same suit in the right size for me. Color is black/silver/orange. Looks great and nicer than my previous GP-PRO suit that I still use after 6 years.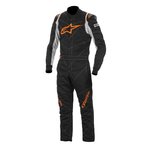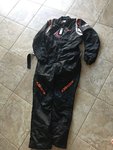 From Alpinestars:
• Certified to FIA (FIA: 8856-2000) and SFI (SFI: 3.2A/5) standards
• Advanced two-layer Aramidic construction for weight saving, durability and improved heat-resistance performance.
• 100% aramidic outer layer with aramidic base layer for maximum heat transfer protection.
• Aramidic reinforced, elasticated lower back panel for unrestricted movement.
• Anatomical arm, leg and torso paneling patterned for optimum driving position fit.
• Internal flat seams reduce pressure points in the suit for a more comfortable driving experience.
• Velcro-adjustable collar and belted waist for precise fit.
• Floating arm construction for unrestricted performance.
• Alpinestars shoulder epaulette construction to facilitate effective extraction of driver in event of a crash.
• Ribbed, stretchable wrist and foot cuffs (boot cut version features hemmed foot cuff finish).
• Thigh pockets for convenient, unobtrusive storage.