Chipping away on random bits as they come in. Waiting for the oilpan and the fuel system right now.
MMR lightweight water pump pully 0.8lbs instead of 1.6lbs.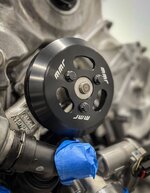 Fresh Ford Performance Mini Starter.
Weighs 6.4lbs compared to the 8.2lbs of the OEM one. 1.8lbs difference and not the claimed 5lbs. Bummer.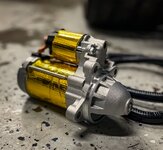 AC compressor is on. Just for
@ArizonaBOSS
cause he likes this one so much.