TMO Friends -
I created a blog "Track Day Enthusiast" designed to pass along lessons learned on and off the track, share resources, and connect with other track enthusiast. I hope you enjoy reading and find the information helpful for your track day journey. I'll be posting the articles on TMO or feel free to view my site (but in no way do I want to take traffic away from TMO
).
Feel free to post comments!
First article is titled "Balancing Act"
https://www.trackdayenthusiast.com/

This is a story about balance. No, not car balance, corner balancing, ballast weights, alignment or any other multitude of things that come to mind for us track folks. The balance I'm talking about is curing the "track bug" (man oh man is that bug persistent) while "balancing" life. Yep, I mean spouse, kids, job, bills, pets, parents… You get the idea.
I'll start from the beginning (but don't stop reading, I'll be fast)! My dad was an auto detailer; I would ride with him to pick up the cars, just hoping it would be something fast. One day we pulled into a house and a go-kart sat in the driveway with a for sale sign. I was captivated! I immediately jumped out of the car and ran to the go-kart. I was 4 years old and officially had just been bitten by "the bug". I never thought the next scene would be possible. After much conversation between my dad and the owner, the go-kart was loaded into the trunk of the car. That's right, half hanging out the back, and the trunk tied down with an old, frayed rope. Back then seat belts were "optional", so I rode home with my knees on the seat looking out the rear window at the 5 hp Briggs and Stratton engine sticking up in the air. Well, I could write an entire book based on my go-kart adventures (hmmm maybe I should do that), but remember I said I'd hope they'd be fast. So, I'll end this phase of the story by saying if that machine had an odometer, there is no doubt in my mind it would read 6 figures!
Next phase, I'm a teenage boy with sharp angled, bulging bodied, 1980s sports car posters covering my bedroom walls. Literally all the walls!! FINALLY, one fine morning I wake up and I'm 16 and on my way to the DMV, yes, I was actually excited to go to the DMV. On our way home I'm staring at my paper temporary license as if it was 1 million dollars, trying to find the right way to ask my dad if I can take the car out for a drive when we get home. But! We pull in the driveway and there sits, with a big red bow, a 1983 Datsun 280ZX!! What?! It's gold, black pinstripe, raised letter Dunlops, and a whooping 135 hp. I am through the roof excited and this is where the track day hobby starts…
While faithfully reading my monthly Road & Track I see the car club ads in the back (remember those? Before the internet). I see an ad for the GA Z Club. "Mom can I go to Hooters an hour away for a car club meeting"? She replied with "No". Well I was persistent and offered to do everything short of rebuilding the house for her to finally say "Yes". So, I borrow her Atlanta paper map and plot my way to Hooters clear across town. After being enamored with the cars in the parking lot I make my way inside just in time to hear them talking about the "Roval" track day at Atlanta Motor Speedway. Again, what?! I can drive my Z on a track?!?! Oh no… It costs $250 and my parents must sign a waiver since I'm only 16. Yikes. Well, again being persistent and offering every deal possible, my mom agreed and signed the waiver. Off I go to Atlanta Motor Speedway with fresh brakes and fluid I learned how to change by reading a Hanes manual. Let's just say I still see this as one of the greatest experiences of my life!
The next 3 years I spent saving every penny possible for track days, autocrosses, tires, and brakes. The tired old Z car held together like a champ while also being a test cell for me to learn how to turn wrenches. Unfortunately, the realities of life took priority and the Z was sold (still hard to say/write that) and I was off to the Air Force (college and pilot training). Over the next two decades I evolved in my career, married the love of my life, and had 4 kids! But as the years passed I never got rid of "the bug"; I would find myself daydreaming of being on track. I enjoyed flying but it still did not replace the experience of tracking my Z. The passion and dream never went away. All those years of life happening, but off in the distance, albeit at times
way
off, I knew I would find myself back on track.
Present day. I'm established in my career, have a strong marriage, and 4 crazy kids. I've now found a way to work that's best for my own form of mental health - this is where the "Balancing Act" comes in. Thank you for taking time to read my back story and hope you found some humor and familiarity in the references.
I'd like to offer 3 ways that have helped me to "Balance" my daily life alongside the track hobby. This may not apply to all as I know each of us are in different phases of life. But for all the Moms, Dads, employers and employees, maybe you will find something useful in these simple tips.
Plan
. I utilize hpdejunkie.com (side note - Dave is a great guy and contributor to the community). Using this site I make a track day calendar for the year. Have fun with it! Head out to the garage with an iPad, sit down after the kids go to bed, pour a drink, whatever puts you in a happy place. Set up a separate "track" calendar (I use Google) and start planning. I look for Friday/Monday events as it's easier for me to take a day off work when my family is at work/school than give up a weekend day.
Communicate
. Once you've built your calendar, share it with your spouse/family. See if the days will work and get the support of those in your life. This will avoid any last-minute miscommunication. Also make sure to include garage/prep time. I started including the prep time on the calendar I share with my wife. Lastly, put vacation/personal days on your work calendar.
Execute
. The day has finally arrived. You've planned, communicated, and daydreamed about being on track. Unplug. Take that vacation/personal day from work. Put an out-of-office on your email. Take a mental health day and have fun at the track; you deserve it. When I come home from a track day I am charged and refreshed! Having the calendar built for the year eliminates the "when can I go do this again?" question. The "bug" will surely be put in your head before you even leave the paddock.
Thank you again for reading. I hope you find these simple tips helpful. Look for my next blog post in July.
Happy tracking,
Nick (nick20gtpp)
Photo: scottiee.com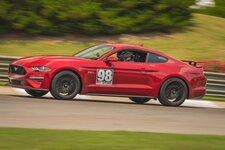 Last edited: