At work we have a article about the Pulse wheel that have 1 bent tooth that was creating
Issues with the 3.5 ecoboost engine.
It goes on to says each tooth creates a pulse for a magnetic sensor inside the engine.
The engines were haveing intermittent issues that couldn't trace down the problem. A 47 yr employee kept trying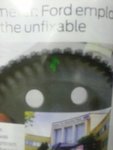 to track it down and found it.
The system is supposed to identify when the number 1 cylinder is TDC, but with the one tooth bent, the sensor would identify multiple cylinders at #1 causing engine sputtering and check engine issues.