I just finished detailing my BOSS with the Wolfgang line of products. Since the car is only 7 months old and garaged, the paint didn't need too much work. I clayed it, glazed it with Wolfgang Finishing Glaze 3.0 and sealed it with Wolfgang Deep Gloss Paint Sealant 3.0. It really came out great!! I had no issues with the sealant on the decals as that seems to be a common question. I did however tape off the decals for the the clay and glaze though. Autogeek.net has great how to videos and plenty of know how in the forums if you are a beginner like myself. Hope this was useful...
I will add some more pics this weekend when the sun decides to come out..
All taped off. Except the spoiler that I decided to tape after I clayed and before I applied the Glaze...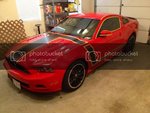 All done!!!! (3 hours later)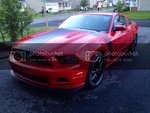 Some close ups...