So some updates. I've been moving slowly and working on the clutch install, but I've run into a few snags.
First, I started monkeying around with my camber plates up front to add some more camber and I ran into two problems. On the driverside, I went to loosen one of the nuts and it just snapped off. I'm fairly confident that this wasn't from over torquing since I use a torque wrench every time, but could be wrong. Either way, that sucks.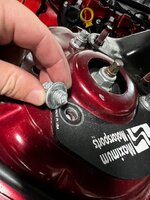 I thought no biggie, I guess I'll have to get new camber plates. Went to the other side and found that the top nut had come loose and the play inside screwed up the tolerances. The stud on the top of the strut is all chewed up (not pictured) and the camber plate is about 1/16" wider diameter than it should be. So it looks like at least the passenger side front strut is toast and given their age, it's time to retire them. I've started talks with Cortex about a set of coilovers (hence my other thread
. Hopefully can get those ordered soon.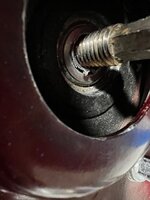 Now, back to the clutch install. I got the OEM flywheel(original that came with the car) and clutch pack (second one, installed in 2019) and both look good. I don't think they're the issue I was having.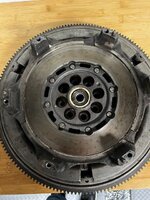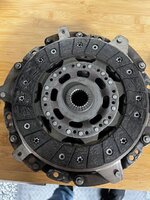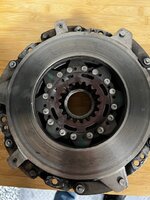 New clutch is in and trans is ready to go back in.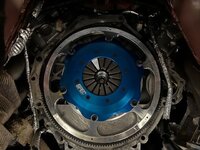 However, I started inspecting the back of the engine more closely and realized my header wrap was starting to fall apart. I started pulling on it and found that it looks like the headers are rubbing on the frame rails. I've already clearanced these once before and there's a good .5" or more in all directions.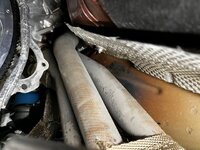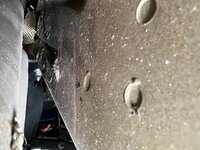 However, we can see (sorta) that the frame rails are pretty cooked. Paint is flaking and everything. The heat shield on the driver side (but above the header) appears to be cooked and show signs of contact as well.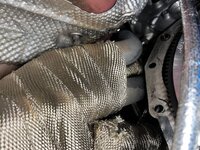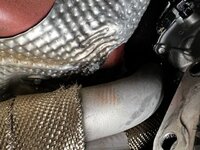 Wondering if the motor mounts are shot and allowing the engine to move around too much?