Attended the NARRA (narraonline.com) event this weekend. There were very few cars outside of the racers that follow their racing season. I can't believe more local people did not attend this event! Get off the couch and head out the track guys ;D This was by far the best event I ever attended. They ran safe and always on schedule, while still being very relaxed and making sure everybody got the most out of the weekend. If you are into tracking do not miss a NARRA event if they come to your town.
Saturday was a typical day for me except during the first session I finally ran a lap under 2:30 it was 2:29.974. I normally do not run well first session unlike most people who do their best laps first time out. Even if the lap was only 26 thousandths under the mark I was happy as I have been stuck there for over year, pulling off many 2:30's lowest be 2:30.2.
I did spin the car at the exit of 17, spun right onto the front straight so everyone in the pit area could get a great view :-[ I was joking with some guys that is not a good idea to spin first session since you need to run perfect for the rest of the event. Should have keep the mouth shut since I did it again in 15 right in front of the number 7 Paypal Grand Am car. Saw him coming up and drove the rearview mirror which caused me to go wide and bring the back end around. I almost saved it did a tank slapper to the left and again to the right but the left side tires went up on the curbing and around she went. It was my fault, since unless you are hit all spins are your fault but I did find the LR tire was completely worn passed the wear marks.
https://www.youtube.com/watch?v=F09-buVSV8g
http://www.youtube.com/watch?v=FBsJFxCN4_U
Day two started out well and even after spinning twice I was invited to run in the TT group, go figure. Some other groups may have kicked me out
I was very scared since this is almost like racing, no point by needed passing anywhere on track. Since the NARRA people were so nice and kicked back and there was only 12 cars in the class I decided to give it a go. I did run the solo group for the first session and ran my normal 2:30 plus times. Next time out was TT and I somehow put into practice the idea of driving the car and not worrying about turning the fastest lap. I am lucky to have good friends with experience help me out and I knew what was needed to be faster I just could not apply this to a complete session before.
It was like the clouds parted and the light came shinning through, I just drove the car from point to point looking where I was going and not thinking of anything else. I pulled off two 2:28 laps, 28.5 and a 28.3, I was very happy with this run and did not expect to best it.
Next session below I pulled off a 2:29, 2:38 and a 2:27.3. I felt like I was fast but again I was just driving the car and not worrying about the time. When I saw the 27 I was in shock.
https://www.youtube.com/watch?v=IZlGsmhLifc
The fourth session TT I got out to the grid late and only did 4 laps, 2:28.1 2:275 2:26.88 and a 2:26.106. I don't mean to sound conceded but that is flying around this track. It really was like the switch was flipped and the light came on. I was looking ahead, pointing the car to the next apex or corner exit and before I even knew it my foot was on the floor. My fear disappeared in the long sweeping turns and I let the cars confidence take higher precedents then my own. Even if there were very few cars left and I was guaranteed a spot, I took second place and it was nice to get a trophy ;D
The first lap I gave the Aston Martin a point by on the back straight but pulled on him, I lifted in the brake zone since I did not want to race a Grand Am car into a tricky corner. That may have cost me another 2:27 lap. He then went off in tower turn (payback is a biznitch
) during my 2:26.1 lap and I had to slow (but not too much) to avoid him getting back on track. I am not complaining since I spun in front of there other car the day earlier but wonder if that could have been a 2:25 lap.
https://www.youtube.com/watch?v=g0U3g2wwY9I
Up until now I have been running take off brake parts. I bought a brand new set of rotors and pads from Racers Edge and put them on mid-day. The difference between new and take-off brakes was very large. The car stopped straight no wiggling in the hard brake zones. They also felt much smoother then what I was use to, I applied steady pressure all the way down the brake zone and was able to hit the heal-toes with ease.
I did crack two more front take-off front rotors Saturday, and a left rear slotted rotor Sunday. When my friend and tech asked if he should only change the cracked left rotor Sunday, I was too mentally tired to tell to change both I just muttered "that's fine". So I had a blank on the left and a slotted on the right. Given the lap times I wonder if the slotted in the rear are worth the cost. I have already decided to run blanks at Daytona since I crack the rears no matter how old they are there.
The second day was also on the new TUDOR GTD G6000 tires and they stuck much better then the GT-I or GT-O. I could feel the difference right away. I know these tires could stick in Bishops bend at a much higher speed, the main issue for me became stopping after the bend since I was going so fast. This did push me through the next turn at higher speed and I always knew the car could do this turn better.
I talked with two drivers at lunch during the TUDOR testing about shoes. They both recommended the Alpinstars on Saturday since I told them I want to be able to feel the brake pedal through the shoe. One guy even let me try his on since we were the same size. When I got home I looked at the price and they were $250 on up. I re-asked this question the next day and they told me since I am doing track days I could get away with the entry level type like G-Force. I called DiscoveryParts and spoke with Ron, he also said the Alpin's were the best but for the money get the G-force as anything in-between the two would not be worth the extra cost.
I bought the G-Force but they are a little to thick to really feel the pedal. They are however the most comfortable shoes I ever wore. I wore them all day Thurs at the test day to break them in. By the Sunday I started to get a better feel but not what I really wanted out of racing shoes. One weird thing that happened was on the first session Sunday I felt something on the side of my gas foot coming out of turn two. I thought maybe the Traqmate head or a camera came loose. It scared me and I was moving my foot around to find what was loose, did not want it to get under the brake pedal. This caused me to put all four off in the S turn, not finding anything I continued on. The shoe sides were thin enough for me to feel the bump in the carpet under the gas pedal, trust me it is there, go look. I had felt this a long time ago with the floor mat out and since then always run with the mat. Anyway, long story I know, the carpet is coming out.
http://www.discoveryparts.com/cgi-bin/store/commerce.cgi?cart_id=1385450287.225&product=racingshoes_gforce&pid=38
I also picked this up by Ron's recommendation and I love it
http://www.discoveryparts.com/cgi-bin/store/commerce.cgi?cart_id=1385449604.121&product=tire_gauges_longacre&pid=1236
Sunday there was a 90 minute endure race so we decided to pack up everything except the car as there was a 70 minute open track at the end of the day. As we were waiting the clouds were rolling in and winds picked up from an approaching cold front. I was also getting cold, the temperature started to drop in the lower 70's. I started thinking what a great weekend I had and felt it may be time to leave then go out and have something bad happen to ruin my weekend. I never give up track time but we decided to load the car and head home.
Nothing major broke on the car and I took off more then four seconds lap time, I doubt I could ask for a better time. So I took the Racers Edge and Promotorstripes Boss home happy and in one piece.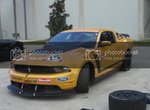 Sharp eyes may see I finally painted the hood after a year and a half. Think I liked it better fully black though.