I found these surfing the FR website today.
With the new BBS you can run larger track tires or run these on the rear and the 18x9.5 on the front for a staggered fitment. These are a nice but more expensive option to the Enkei PF01's. But of course you gotta pay to look just like the race cars.
http://www.fordracingparts.com/parts/part_details.asp?PartKeyField=23536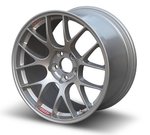 I really like the base wheel on the 2013 GT500 and this is a black version. Now if FR would offer a 19x10.5 width that would be sweet. Obviously these work with the new 15" Brembo front brake package and are forged.
http://www.fordracingparts.com/parts/part_details.asp?PartKeyField=22873