Guys n Gals-
I went to the Nor Cal Shelby Club picnic for the third year in a row. It's always a great turn out and great folks. LOTS of gorgeous cars, including several Cobras and Shelby Mustangs as you can imagine. One Volvo wagon with a 302 Windsor swap.
I think it's funny that they can hold it anywhere, but they choose a school I went to for a year when we moved from Los Gatos to San Jose. In all truthiness I was going to drive the '10 T for funzies but the tire was halfway off the rim and the tube was split when I went over to my folks house to grab it. Dad "fixed" that on friday afternoon. :
Rick- there's Marty's 2011 Black with Red GT500 PP car again! That thing is always trying to sneak into the picture.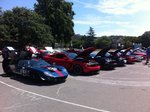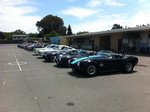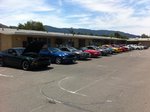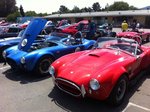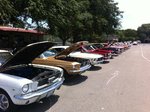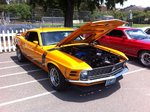 My friend Myron's Super Cobra Jet Drag Pack car. Makes me want to throw rocks at my car.