Hey guys,
Check out my article where I dive deep in to tire technology and the effort Michelin puts into making bespoke OEM tires for a specific car model. This is written from my experience as a development driver working on creating bespoke tires for cars like the GT350/R, GT500/CFTP, and Ford GT. These concepts apply across Michelin's product line and the same amount of effort goes into creating tires for performance cars as they do for sedans, trucks, SUVs, transit vans, etc...
The article explains why replacing an OEM tire with a wider tire of the same model (even with thicker tread) will likely hurt performance, feel, be slower on track, and (if driven at the limit), will often NOT last longer. This is aimed specifically at your GT350R guys who want to put wider (non bespoke) Cup 2s on their cars. In short: The car will handle and perform worse, be slower on track , and likely not last longer if you drive them at the limit.
There is far more that goes into making your factory tires than you might ever have expected.
Not All Michelin Cup 2 Tires Are Created The Same
- For good reason.
They may look the same, smell the same, and be the exact same size; but not all Cup 2 tires are created equal, and for good reason. Michelin produces off-the-shelf tires as well as custom bespoke tires that are engineered with specific construction, tread design, and compounding for a given car. Choosing the wrong Cup 2 tire can greatly impact the handling, feel, fitment, and performance of your car in terms of seconds per lap! Because of this, unknowingly swapping to a wider Cup 2 that has a less aggressive compound can actually make your car slower than using a smaller, stickier Cup 2 that was engineered specifically for your car, so pay attention!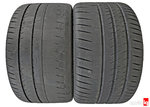 https://motoiq.com/not-all-michelin-cup-2-tires-are-created-the-same/
In the article
-Michelin's development of bespoke tires for race cars and OEM street cars
-What goes into tire
TREAD DESIGN
: Tread Depth, Circumferential Grooves, Outer Shoulder Features & Sipes
-What goes into tire
COMPOUNDING
: Compound Variation Across Tread & Tread Depth
-What goes into a tire's
CONSTRUCTION
: Carcass Profile/Shape, Width, Ribs, Sidewall Stiffness,
-
Cup 2R
-
Cup 2 Connect
-How Tread Design, Compounding, and Construction Come Together
And much more...
Enjoy!