Hi all,
This appears to be the most track oriented site out there for the Boss 302. In the 8 months or so since I've been researching this car I don't know how many cloud9/5 DOT 0 posts I've read. Long time lurker, now part of the family.
First time Ford AND domestic owner. Test drove the Boss and fell in love (was serious about buying but not going to buy a car I can't drive a little beforehand first). Bought it minutes after my test drive! Coming from a high strung 4 cylinder Acura, this feeling of torque everywhere is amazing.
Trying to make the car almost exclusively track only but the amenities are still nicer than my decade old Acura.
Is it just me or does the stock brake pedal feel a little mushy? Might be a little air, but I'm gonna replace with DOT 4 fluid anyhow.
Anyhow onto the part every wants to see, pictures! Credit goes to my awesome photographer friend Andrew Paules. Thanks for listening!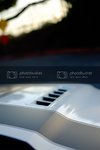 - Frank