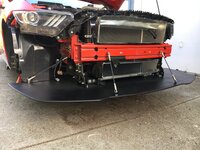 That's the best I have.
Bumper beam is through drilled for front support rods. Used existing holes in the sides for the side support rods.
I'm still using fender liners and getting the three push pins per side out is the most time consuming part of removing the splitter. Frustrating if on the ground. Easy peasy if front wheels off. Would be easy without fender liners as well.
Bumper does not need to be removed to pull splitter off.