Freehold NJ
There were a bunch of really nice BOSSs there. 2 Yellow Blazes wow only 55 in that color and 2 of em there - odds on that. Also a CO with white stripes- i think that was rare as well a few 2013s SBY an GB and a LS.
I took 1st place with my 2012 C/O
great day and mustangs from all classes - close to 200 stangs, panteras, a brand new saleen S7 and a few gt40s - tbirds as well and of course lots of shelbys. Tons of classics and i was pinched between 2 70 bosses and a 351 awesome day. Best in show went to an 66 427.
I dont know if it was a kit but i couldnt get to it - was roped off and way to many people snappin shots - was trucked in at the last hour of the show and trucked out haha - pretty neat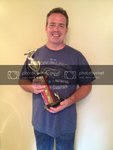 Thanks - Rob