"Front radiator block off plate from gt350r is now standard"
I'm guessing this is just the internal baffle and not the entire bumper cover. I wonder if this is a solution to high speed hood lift/buffeting.

Didn't you add a Kohr GT4 center vent to your hood?
The R grille opening is smaller. I reduced the normal grill opening in the same fashion of the R. I reduced a portion of the lower grille opening. I think the GT4 cars use the R grille but, the FP350S cars have nothing blocking air. Maybe that's dictated by a different oil and trans cooler location.
Yes I have a GT4 center vent.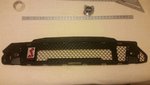 Sent from my SAMSUNG-SM-G900A using Tapatalk