I picked up a 2005 Mustang GT last November after running a 2001 Bullitt for mostly autocross over the last few of years. I went a bit "overboard" with the bullitt pouring tons of money trying to chase something that was realistically out of reach and decided to get rid of it in favor of a tasteful fun weekend track car.
Before: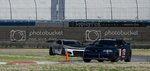 After: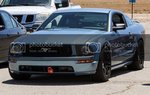 Current mod list:
Suspension:
Feal 442 coilovers 10kg F 7kg rear
Whiteline Front Sway Bar
Whiteline Relocation brackets and lower control arms
Whiteline Watts link
FRPP front lower control arms
Stock rear 18mm sway bar (I have a whiteline RSB as well but liked the way the car felt with the stock unit for now)
BOSS front strut bar
Maximum motorsports caster/camber plates
Drivetrain/Rear end:
FRPP 3:55's
Eaton Truetrac
Moser street axles
JLT expansion tank
Mcleod SSP clutch and steel flywheel
FRPP clutch line
Engine:
Stock (slow)
FRPP radiator
FRPP Fan
HPS hose kit
Brakes:
Wilwood Aero6 piston kit
Centric rear blanks w/ powerstop track day pads
Stoptech rear lines
Ford racing brake duct w/ mishimoto hose and Quantum bumper ducts
Wheels:
Forgestar 18x10 w/ Falken 295/40-18's squared
Interior:
Sparco Evo 2 driver seat
GT500 steering wheel
I just finished the car a couple of weeks ago and have two autocross days and one trip up to streets of willow. I am going into it with trying to learn as much as possible about the car before trying to add any power adders to it.
Any insight to the direction im going so far is welcomed as I am currently looking to go another route for rear pads. The power stops work well but dust horribly.
The car will be 80 percent autocross with 3-4 track days mixed in a year. I was looking at either the performance friction Z pad or G Loc R8's.