Not liking the idea of the front holes for the brake duct tubing being open, my wife picked up some window screening from Home Depot today.
While installing my brake ducts, I cut out some screening and wrapped it around the back of the front valence insert so the tube clamp would hold it in place.
Here is a screen shot with the screen being held in place with a rubber band.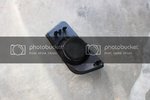 Here are pix of them installed.