I along with some others I know have been miffed that no one offers a Carbon Fiber Cover for the cup holder door. I was messing around on ebay and found a guy that does custom carbon fiber plates. I corresponded with him and showed him some of the Stainless Steel cup holder door offerings for the Boss & Mustangs.
I explained that there could be a market for a carbon fiber door cover. He bought one of the stainless steel covers and has made a mold out of it. He ALSO does custom vinyl inlays into carbon fiber. He offered to do the Boss 302 inside the gel coat, but we went another route. Since my son plays golf for oSu, he wanted the Phantom Pete logo shadowed inlayed in the cup holder door. Here is what ours SHOULD look like.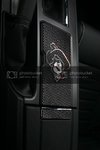 If the quality this guy does is good, I will post and show it. He will already have the mold for the cup holder door, anyone could get what ever design inlaid they wanted. It is real carbon fiber weave that matches the carbon fiber console we got from Trufiber. He is making them .25mm thick, so they are thin and gel coated carbon fiber to a high gloss finish. It is roughly half the cost of the Stainless Steel ones you can buy.