Hello
At my last trackday in Monza I had problem with high differential temperature. (302 °F redline!!)

Outside temperature on this trackday 86 °F.
This week we changed the differential fluid and yesterday did a little test on the German Autobahn.
-Outside temperature: 66 °F
-Speed driven: 75 - 124 mph
-Test duration: about 20min.
The differential temperature rose continuously! Even if I drove slower, the differential temperature hardly got lower.
At 217 °F I stopped the test. ForScan always showed "Diff Pump Off" during the
whole
test.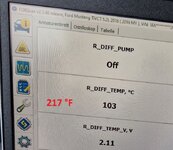 The outside temperature was very cool compared to the track day and the speed was not really fast, but the differential temperature kept going up.
I don't think it should be like that.

I can turn the pump on/off stationary (see video)
https://youtu.be/dTqF9-XzbI4
But I don't think it works properly when I drive.
-At what temperature does the differential pump turn on? (Shelby GT350)
-Is there anything I can check? Or is it possible that the pump is defective?
-Relay? Fuse?
Thanks for help