Because racecar.
Moderator
Sort of.
(I am reposting this from TMS for owner awareness.)
I had this faint burning smell whenever parking the car after driving, some other posts on here said it might be factory rust inhibitor burning off or something so I didn't think too much of it.
Well earlier this week I notice a very small puddle or residue on the garage floor. Initially I thought it was just condensation from the AC compressor or something, so I didn't look at it too close, but tonight I jacked up the car and found this: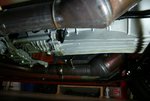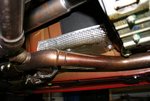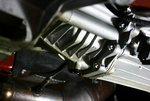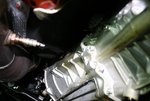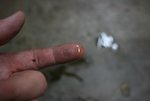 Pretty sure it's transmission fluid. It's the color of enigne oil, but there is nothing anywhere on the engine or upper bellhousing. The engine oil level is exactly where it should be. Only on the transmission back, all the way to the trans crossmember, and all over the driver's side exhaust and heat shields (hello burning smell!) Looks like it is coming from the top or upper driver's side of the trans itself
Looks to be coming down from the top of the trans, it is all over the driver's side of the trans and the DS exhaust.
Looks like I'm headed to the dealer this weekend to have them pull my transmission out...
Anyone else that has a faint burning smell after driving should take a look under their car ASAP.