Just finished installing the AP Rear brakes on the R. Fronts were very straightforward, Rears require a bit more work.
First remove the OE rear calipers and rotors, together with the e-brake brake shoes (I also removed both e-brake cables as I didn't want to just zip tie each of them to one side)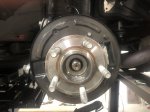 Next the rear hub has to be removed. Undo the axle nut and then remove the 4 hub bolts. The forward 2 of these bolts on each side are only accessible with a 18mm short universal socket (3/8" drive) and even then you need to compress the halfshafts inboard to get access.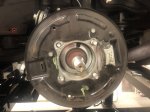 Then remove the e-brake support and dust shield:
At this point you remove the dust shield and have to trim the e-brake support, then using it as a spacer to maintain hub location: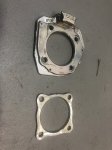 Note that the 350/R halfshafts are longer than base GT to account for the e-brake mount/spacer. Also the calipers will not be centred without the spacer.
Add the caliper mount and caliper: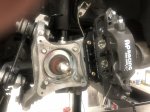 Place the spacer between the hub and the knuckle and re-install the hub.
I then used an M6 screw and washer to attach the brake hose support to the sway bar mount as the OE M8 bolt is too large for the provided support: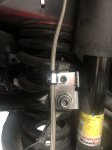 Finally having installed rotor and pads I fabricated a wheel speed cable support from angle, to replace the OE support that is attached to the e-brake cable: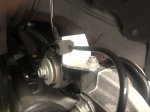 Bled the brakes now it's time to go bed them in and test!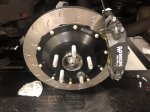 Last edited: