After seeing that other weird jack video, I thought I'd post how I lift up my car.
I've read about 1000 posts where people debate the safest points from which to lift the car. The only Ford-recommended points are the pinch welds where the emergency jack goes.
But how do you get your jack stand where the jack needs to go?
With some wood, and four of these: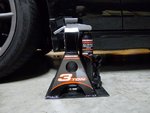 The idea is to get about 6 inches of wood under each tire so you can fit the jack stands under the pinch welds.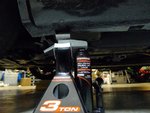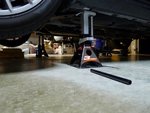 As a warning, you've got to be careful if you lift in the wrong order. Remember that the front wheels will roll, and as you can see I don't have wheel chocks on mine. I should.
Here's my process: Parking brake on, raise the rear tires up on blocks, then raise the front onto blocks, then installing all four jackstands and gently lift the car off of the blocks.
These things were only like $30 from tractor supply company. I bought one locally and got three more shipped for $108.
http://www.tractorsupply.com/en/store/powerbuiltreg%3B-3-ton-jack-amp%3B-jack-stand?cm_vc=-10005
Seemed like a fair price to be able to lift your car from the proper lift points.
Thoughts?