4
1
Exp. Level

Under 3 Years
EDIT - Darn it. Meant to put this in the S550 forum. Sorry about that.
Hello everyone - first post….
I have a 21 Mach 1 that I am going to prepare for track duties…. One of the things I was able to find to upgrade was a pair of PFC 2 pc front rotors. These were old stock from the Roush P51 cars… and they came with a set of PFC pads. In looking at the PFC website the listing for those cars says the only available pads for the P51s are "
Disc Brake Pad – Max Performance Carbon Metallic Brake Pad – Front"
but does not give give any other specifications. My thoughts are they probably will make good street pads…. Can anyone here tell from the photo Ive attached the specs on them?
Thanks!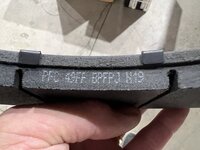 Last edited: