Overview:
We had a brand new driver in the car, Preston Calvert, he has experience in the SCCA and Corvettes and Phoenix had him practice the GS car a couple of weeks ago. So it was time to jump in with both feet! Practice at Lime Rock was limited to a 45 minute session and keep in mind that a good lap at LR is under 1 minute so it doesn't take long to go a lap down. There were only 8 cars on the lead lap and the race went green the whole way. In any case the Preston looped the car several laps in and then missed the pit board so the fuel hose wouldn't reach. So while that stop may have looked bad the pit stops actually went extremely well, I would also like to point out that this guy jumped right in with the piranhas in the season finale so if you think it's easy you should try it. That being said Billy Johnson in a Boss 302 ran down Matt Bell in the Camaro and won the race in an awesome outside move after being blocked several times, they went about half a lap side by side, you need to see this!! Andrew got into the car and we went about 4th quickest over all after doing some tire pressure changes. It was good to meet Steve also.
Anyway, here's some pics..mostly of me
..although I have some babe pics in the works.
It's always beautiful at Lime Rock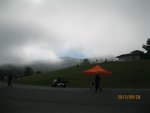 Preston, Kurt and Myself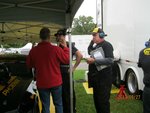 temps and pressures..temps and pressures..temps and pressures....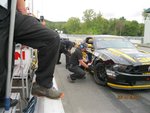 tire guy messing with new driver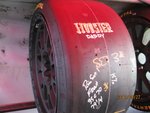 Roush car in practice, stay tuned for some news from these guys in GS
temps and pressures..temps and pressures....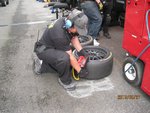 my office....
excuse me, I have to get temps and pressures.....