Still not finalized on the tuning, but laid down what I feel are pretty strong numbers given I had put the exhaust basically back to stock.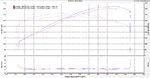 STD curve because I'm lame like that.
The blue is my MMR 5.0 Coyote/Roadrunner thing, stock catback, closed boss sidepipes, stock TB, JLT cai and AED tuning. Healthy torque, the red line is my old factory 5.0 with a Boss intake, JLT cold air intake, magnaflow exhaust and a BBR Tune.
Wasn't out there to be doing glory runs, was working on troubleshooting some stuff, but always nice to have numbers to share.
Now I wish I had gotten longtubes and gone all out on the exhaust, but if I ever feel like I need more power (lol the car needs a lot more grip) I know where I can easily find it.
Also, as a fyi, a coyote bends time and space when it goes over 8k rpm. Crazy watching the needle stop on the tach (GT car) and the engine still climb.
ArizonaGT has some video