PART 1
I share here my experience, I've made by the replacement from the original boss spoiler to the GT/CS, Laguna Seca rear spoiler.
first it needs the right mood, your favorite music, good beer and a lot of time.
again: take enough time!! and read the instructions!!!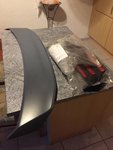 I have used this tools:
- a thin (0.8mm) nylon thread from a lawn trimmer
- a 19mm hole-saw with a 8 mm centerdrill
- a strong painter tape
- Nylon Trim Tool Set
- 3 + 8mm drill
- file
- hot air gun
- cordless drill
- touch up paint
- rtv gasket
- all the other tools thats listet on the Instructions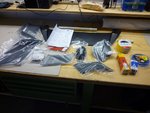 i did this on a clean, dustfree car;-)
remove the factory spoiler:
remove the cover inside from the decklid and the 2 plugs that cover the nut. the plugs will be reused! don't trow it away
carefully remove the 4 nuts.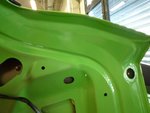 cover the spoiler and the decklid with the painter-tape and some blankets.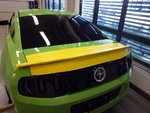 use a 15 inch long piece from the nylonthread and begin on a side carefully to go between the decklid and the spoiler. pull up slightly on the same end on the spoiler helps to do this.
if you have the thread between make sawing motions until reaching of the first pin.(run the thread slightly towards spoiler and not to the decklid!!!) slightly pull up the spoiler everytime. use one of the nylon trim tools.
cut as much as possible around the pin and push through the thread after the pin. use the nylon trim tools to pull up the spoiler everytime.
once more: take your time to do this!!!!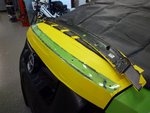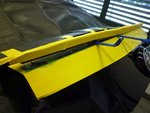 when the spoiler is removed clean the decklid.