The short version.. we were a factory supported team for "brand X" after we finally got the car in the winner's circle last year, along with another podium and two poles, the factory pulled the funding just prior to Daytona. The vehicle we were running was a nightmare, replacing the entire drivetrain every race, so when we were racing on our dime we took the weapon of choice....the Ford Mustang. We ran at the Circuit of the Americas and went a lap down early with our first driver, and with 35 cars in the class you'll never make that up. So it became a test session, which is OK, because we were needing experience with the car, and more importantly the car came home in one piece. The car was completely built in about 4 weeks.
We are extremely underfunded and just going from race to race. It looks like we should make the Barber race in April but we need all the help we can get so if your in Alabama the first week of April stop by and see us.
The series...
http://www.grand-am.com/News/ContinentalTire.aspx
The Team.......
http://www.phoenixperformance.net/
Pics from COTA....
This Daytona this is what a Roush Boss 302 looks like, we're smiling because it has a 50 hour service life, not a 4 hour one..on a good day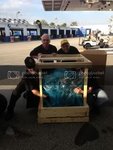 the crew....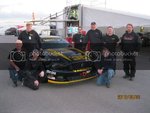 Engine..