HI Guys
I ran my first trackday with the Boss yesterday and i have some questions about the car now.
Please bear in mind i also own a 2011 GT which i tracked 4 or 5 times before i had the Boss.
Here's a picture out on the F1 circuit in Belgium called Spa Francochamps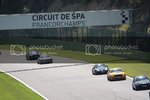 Anyway, here's my questions. please note when answering that i cant have the car checked under warranty as im in UK so any trip to a dealer is at my cost.
Most important is the first one!
1. Noise from the engine under heavy acceleration:- I made all the runs with the trackey active and noticed that when i reached high rev limits like 6500-7500 ish (cant be exact i was focused on the road) i noticed a sound that was a lot like an exhaust manifold vibrating, now im no mechanic so i could be completely wrong but it didnt sound right at all its very loud reminds me of a racecar with no sound proofing. I got worried so much so that i only ran two sessions and decided to drive home as i was worried that if it was going to fail i was 400miles from home. On the way home i tried similar rev speeds with the normal key in but didnt hear the same noise.
So is this a feature of the trackey a bit like the lopey idel so that when your in high revs it sounds like a race engine, ive listened to some videos on you tube of bosses on track and think i can hear a similar noise
2. Acceleration is brisk but once you get over a hundred it seems to take an age to get up to say 120mph any one else feel the same?
3. I think im not carrying enough speed through the corners which wont be helped by the fact that the adjuster on one of the back dampers is broken! so the whole car is still on setting 2, how much better is the cornering is setting 5 than on 2?
4. I have removed the restrictor pipes (rear boxes are standard) and the car sounds like a motorboat when idling driving slowly nothing like the rapsy sound of my Roush axlebacks on the 5.0 GT any one else finding the same?
Cheers for any help, point 1 is really worrying me, ive purchased the car just for trackday so that the GT can do all my roadtrips and finding that i didnt enjoy it has left me $ 45000 disappointed
ian