I was watching an interview with the Roush Boss 302R racers and one of them mentioned the importance of a new brake package allowed in the 2013 rules, which has enabled the car to be much more competitive. For a split second, you can see the new brakes in the video. OHAI huge rear brakes!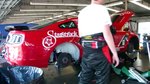 So, I checked-out the 2013 Grand-Am rule book. Oh, hullo:
Permitted replacement components

11. Permitted 2013 GT500 brake package, (Front calipers P/N XB10511LH, P/N XB 10512RH; disc 09852874LH, 09852874LH, 09852878RH; rear rotor DR3Z-2C026). Teams that opt to use this package are not permitted dimensional tolerances or front caliper upgrade. Must be used in combination with Bosch ABS controller, Minimum weight 3360.
So, there you have it. The driver called the brakes the weakest part of the Mustang and Mark Wilson said as much to me last year. Here is the upgrade path. Start checking your local pick-and-pull.
I know the idea of using these brakes has come up in other threads, but I look at this rule change (which has to come from lobbying by the teams and/or Ford Racing) as an endorsement of this package as an improvement. The driver seemed to think so. Oh, and they won this weekend. With this kind of endorsement, there will be at least a few people who will try it out, so I thought it would be nice to have a thread ready and waiting for it.
Jimmy