Hey everyone! Just signed up to the forum and busy reading through tons of articles and knowledge here. I took the Mustang to Roebling Road Raceway, for a private track day with the car club I'm a member of for its first outing. I've run on this track at least a dozen to two dozen times with my 2014 Viper GTS, now that car is gone and I'm out there in the Mustang. It's just the stock GT premium, no performance pack. But I do have a Borla S-Type catback exhaust, JLT intake and 93 octane tune. Also just installed the steeda functional race wing. I don't have any "before" performance data, so can't tell you if any of those things helped with the lap times. I do know that I started the day off at 1:36.XX lap time and by the end of the day I was at 1:29.XX but the stock 255/40/19 PZero Nero's were not liking life. I've upgraded to Nitto NT05s for the next track day on June 5th, so we'll see how these do. I'm still trying to figure out a dedicated wheel/tire setup, so I wanted something that was a lot better for the track while still being street friendly too.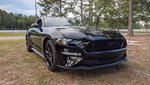 I wanted to know if anyone had any suggestions or recommendations about track oriented mods that are must have type mods? I'm thinking about a nice set of upgraded sway bars and coil-overs, but do any of you have any tested recommendations? Any important things to watch out for? I'm reading the 10 speed auto over heating thread, and I'm a little worried about that. I typically don't stay out for very long, maybe about 10 minutes at the time, as the track days we do are open track and you can come and go as you please. But are there other things to be concerned about or watch with your experiences? Thank you in advance for any guidance you may offer.
Here's a link to a quick video I did of the track day. Thanks again.