4
0
Exp. Type

Autocross
Exp. Level

3-5 Years
Hey everyone!
Just picked up my (new to me) 2016 GT350!! Took a look at my current tires on it and I've got PS4s on the front with about 8/32 tread and some Cup 2s with about 5.5/32 tread. I'm starting to look right now for what I can replace my Cup 2's with and realized it's actually kinda hard to find tires in 305/35/19 that people still make! My local Discount doesn't have PSS and
Tirerack
has them back-ordered.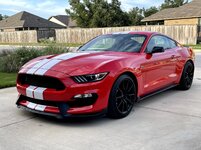 I was thinking of running some NT555 G2's at 305/35 square (they don't make a 295/35). Not doing it so I can rotate (I want to keep the 11inch wheel in the rear) but mainly doing it so there's an accessible tire that I can get. Has anyone run 305/35 in the front? I see several 305/30's but I'm not sure if that extra tread wall will rub.
Also open to any other suggestions for what to do!