Hello all, I've been a long term lurker here and decided it was finally time to share my experiences and progression with my car and performance driving efforts. The goal for the car is to eventually become a dedicated race car in either the Spec iron/ American iron series of Nasa in the southeast region. I am located in Charlotte North Carolina and have a handful of tracks in neighboring states to choose from. I have grown up a race fan mainly watching Nascar as I'm in the south and as you could imagine its fairly popular here. I've been getting more involved with road racing and educating myself with the racing form as compared to Nascar.
The car is a 2010 Mustang gt premium that I picked up used from Atlanta in September, about a month into owning it I attended my first ever HPDE at Carolina Motorsports Park with the Carolina Regional Mustang club for their 2-day driving school. As a beginner I was excited to finally get to experience driving on a racetrack as I had been watching it for many years as well as playing countless hours of Forza Motorsport. I drove 4 sessions worth because I could only attend for one day but those 4 sessions taught me a lot about myself as a driver and the car itself. The novice group I was in made me feel like a better driver than I believed as I was getting pointed by from cars I had no business passing. I'm trying to learn on the stock equipment as well before I sink huge amounts of money I don't have into it trying to improve on what I don't know about or think I need.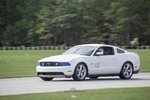 first event at CMP



One of the first things I'm trying to focus on is making myself more comfortable driving in a performance environment. Some of the ways I have tried to do this is by buying a few racing goodies from OMP and some better pedals to assist in my heel-toe. I found a seat on craigslist for a deal about 2 hours away which turned out to be one of the best things I've done to the car so far. It's an OMP HTE Carbon, it weighs in roughly at 13.5 pounds which compared to the behemoth of a drivers seat I had before. I saved over 40 lbs from that adjustment and have felt more confident taking corners with it than subconsciously bracing myself to the door.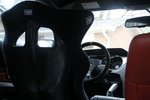 Ole faithful

Fast forward a few months and my third gear synchronizer is out and I was under pressure to fix it before my next planned event which was the Charlotte Motor Speedway Roval with the SCCA's Track Night In America. I did the math and It would cost about the same to get the trans. rebuilt and put back in as it would to buy a trans. online and installed. I had finally got the trans. put back in barley before the next event (roughly 4 days before) and man was I happy to have that gear back.

My second event was finally going to happen, the CMS roval; I was very excited as I've seen tons of races here in person and on TV. I signed up for this event entirely too late with only 3 days before it was supposed to happen. I was wait listed online but I still had hope. I get to the track that day not really knowing what to expect but I still have everything needed given if I was able to drive it or not. when everyone was signing in I explained how I was on the wait list and the man at the table had me wait for a little bit. give about 20 minutes and he starts calling names of people ahead of me and I'm holding on, hoping to get the opportunity to drive on track and sure enough I got my chance. The run group was pulling onto the track soon after and I was apart of it. The infield was very fun and simple enough to navigate and the Nascar turns were exhilarating, I was going the fastest I'd ever gone so far and after each session I would just be amazed it even happened. This was my first time at an event where I was more data driven as far as logging my lap times and watching my tire pressure.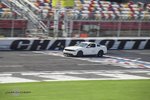 me on the front stretch at CMS
There are plenty of plans for this car through out the future and I'll try my best to log it here for everyone to read and give their input on. I love this forum because of all of the real information and experience here along with some of the amazing people that make this place one of a kind.
thanks for reading
Last edited: