Usually blocking off the airflow to the grill is bad for cooling and good for reducing drag at high speeds.. however, if you already have hood venting (something like a Tiger hood or louvered hood) it seems you can gain downforce by blocking off parts of the hood to airflow.
Has anyone tried this? did the pro races from the old days use this in the world challenge S197s?
Edit, got this pic from trackaeroconsulting.com shows quite a bit of the front grill is blocked.. Here is the paper on it
https://racelouvers.com/content/Race-Louvers-Mustang-Hood-Shootout-Wind-Tunnel-Data.pdf
it essentially says block as much radiator opening as you can while still maintaining cooling. this not only reduces drag but also increases front downforce.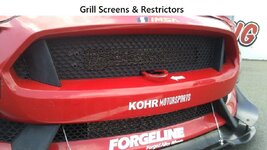 Last edited: