T-Shirt order thread.
https://trackmustangsonline.com/index.php?topic=3873.0
Hey everyone the BMO T-Shirts are ready for printing and I hope to have them available for shipping late next week, just in time for Christmas. So I can get an idea of how many to order please let me know if your interested, what size(s) you want and how many. I will not hold you to whatever you post I just want to get an idea. They will be made using a Port & Co 6 oz shirt in athletic heather gray and the link is below. I have a sample and it's a nice quality shirt.
The shirts are being sold to help support the BOSS Mustangs Online forum and will cost $21 delivered to US addresses. Add $1 for XXL shirts. For shipping outside the US there will be an additional charge. I need to check into shipping to Canada but I don't think it will be a lot more.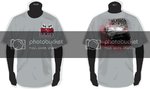 http://www.companycasuals.com/hironakapromotions/b.jsp?id=489&prodimage=imglib/catl/2012/f7/PC61_AthleticHeather_Model_Front_a2010.jpg&swatch=Athletic+Heather+*&parentId=624