Sunday Feb 19th 2023:
Dropped off the front bumper cover at a buddies shop who said he could paint it for me.
Monday Feb 20th 2023:
Installed the AN adapter fittings into the trans along with the 90 fittings and the braided hose for the trans cooler lines.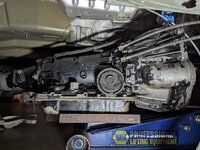 Cut and trimmed the factory deadener and heat shields to fit the modified trans tunnel and reinstalled them to put the transmission in for what I thought was the last time.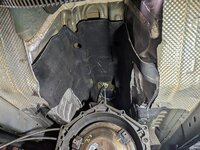 Sadly the lower AN fitting "clears" but wont allow the trans to mount centered. I will be removing it again and making some room for the fitting and line routing. On the positive side it appears I will be able to route them high enough away from the exhaust. Pictured is the fitting in question.