#LS-378 - So many Porsche's, so little time....
Moderator
Track Day Solutions is now carrying custom made magnetic car numbers. And as always, with special pricing for BMO members!
* Product is made from 30 mil thick weatherproof white vinyl clad magnetic sheeting with 1/2 radius rounded corners to help prevent peel off at high speeds.
* Graphics are made from the same ORACAL 2.5 mil professional calendered vinyl that we use for all of our car graphics work.
* Designs can range from single color two digits numbers on a white background, to multi-message panels with background graphics, or something of your own design. If you own a business or maybe a member of a local car club,
we can incorporate your logo into the final design
!
* See below for some stock background graphics, your custom image can also be used at an additional charge (prices vary by image complexity, not all images are applicable for use as a background).
* Over 100 fonts available - if your PC or Mac has it we have it also. Fonts used for the example below are:
> Top Message (TDS logo): EvilGenius
> Car Numbers: HemiHead
> Drivers Name: Brush Script MT
Pricing ranges from $35 to $80 for a set of 2 plus shipping (USPS Priority Mail)
Please contact us at 860-703-1592 or [email protected] to receive a quote for your specific needs.
Example of piece made for a current forum member (name changed):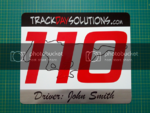 Examples of other background images in stock: