Finally got my hands on a 2013 SBY Boss 302 (#1829). I had to drive about 400 miles to get it, but the price was right, and I worked with a great dealer. I was able to negotiate the price and identify the options I wanted thanks to everyone on this forum! I was looking for a Grabber Blue version, but once I found this one in SBY it was over!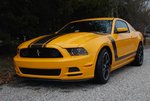 Unfortunately, I am headed out on a patrol and wont get to log many miles (its too cold in NJ anyway). I look forward to getting back and having some fun.
I plan to leave it mostly stock, but may look at small power upgrades throughout the coming years. Looks like the most common early mods are getting rid of the exhaust discs, installing an MGW shifter, taking out the sound tube, and getting a nice set of track wheels/tires. I am game for all of that. Did i miss anything? I would like to do long tubes and exhaust down the road, but I dont have enough miles to justify that yet!