So I received my Boss Front Splitter DR3Z-17626-BA

However it did not come with the 3 j-nuts and bolts for the outside holes(6 total) I called Tasca and they show the part numbers for these(W505425S438, and W520822-S439) which according to their system, and what I find online are M6's. The instructions for the installation however shows M8's....
I am trying to get the fasteners ordered, but am trying to find the correct ones. The diagram below, I believe its numbers 28 & 29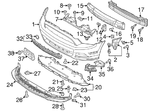 Anyone help with this??