I was fortunate enough to have been able to order a 2nd '13 BOSS. (#1479) My dealer who knows the story of Parnelli Jones being a boyhood hero of mine came up with an idea to surprise me with delivering my 2nd BOSS with a little something extra to say thank you for my loyalty. I won't bore you with the whole boyhood story but in 1970 I was 12 years old, my bicycle was a Fastback 100 painted SBY with black stripes and BOSS 302 painted on it by hand. Needless to say I have always dreamed of having that car.
Fast-forward 42 years and I can finally afford to have that car. This time around I picked up my new BOSS with PJ's autograph on the dash. Sure anyone could have signed it but I also got the original airbag cover without the autograph and the box with the shipping labels showing it's 2 way trip to get autographed.
Thanks so much Jim Carson, Blackstock Ford in Orangeville Ontario, Jim's partners at Ford and Ford of Canada and of course Mr Jones!!!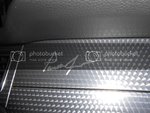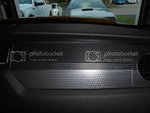 http://i1145.photobucket.com/albums/o501/RoushF150Stage1/DSCN0088.jpg
<