Got another step closer to Arizona today. Swapped out my bus driver steering wheel for a real racer's wheel.
1)Disconnect battery to power down airbags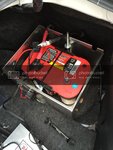 2) Remove plugs from side of wheel.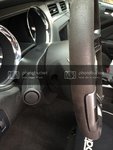 3) Pull out airbag and remove connectors like so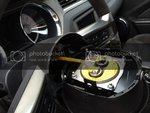 4) Remove center bolt and pull off wheel , remove connectors.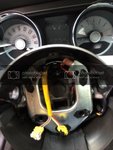 5) Remove lower dash trim by removing 2 screws and pulling down from top. Remove 3 T15 Torx screws to remove steering column cover. You will then have to remove clockspring harness and 2 T15 Torx screws, pull clockspring straight off of shat. Do not rotate clockspring and use tape wrapped around to keep it from rotating in storage.
6) Bolt Sparco adapter on to shaft using stock bolt, torque to 45 ft/lbs. I used the quick disconnect, so I then screwed this on with the supplied 3mm hex socket screws. Note red mark indicating 12 o'clock position so splines align the wheel correctly.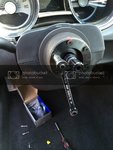 7) Attach steering wheel to quick connect hub using supplied 3mm hex screws. Put wheel on and get ready to race.
This mod like the ABS module completly disables Advance Track, also the Airbag warning light is on and I haven't figured out how to fool this sensor yet so I'll have to live with it or get some black vinyl to make a mask on the lens. Maybe can make a template and Pete can cut them for us.
Steve