Hi guys,
Thought I'd sign up for the site since I've been lurking for a while.
I've been a long time Mustang owner, having just come from a 2011 5.0 ( with a D1SC Procharger), and before that a 2007 GT500 with a Whipple 2.9 blower.
I love this new Boss! I can't believe Ford has coaxed so much NA power from this little mill! The handling is very "un-mustang" like in that it really delivers on making the driver feel like they can conquer any corner, with any competitve car out there.
Going in Thursday for the Trackey install. This will be my second attempt with the dealer in getting it in there. Hope it works this time, they said they figured it out, it was the Windows 7 not working when Ford Racing told them they must use Windows XP. We'll see I guess.
Here's some pics from when I picked it up: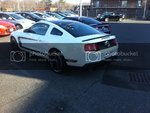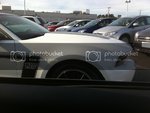 From a quick cruise with a buddy: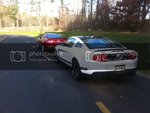 My old car: