Doesn't exist in any ford parts catalog (14B485 catalog number for the part).
its this part pictured with 1&2: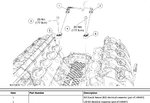 Can anyone look at theres and extract ALL the numbers off of it? We're hunting the engineering numbers from that portion of the harness. Or a picture of all of it would be great.
Better yet, I'll pay a bounty for one of these damned things, otherwise I get to play surgeon and build a harness to replace it in the interim.
here's a good shot of the harness, but not good enough to read the rest of that tag outside the 14B485 non-existant catalog number.
I'll build one if I have to, its 4 pins and I have a decent set of references on wiring, but would be great to find one of these. Tousley, Ford customer service, google, ebay and junkyards have been no luck. I sold mine with my original harness not realizing what I let go.