If anybody has an LS or the FRP gauges installed, any idea how accurate/reliable the gauges are?
I'm wondering if they can be helpful in experimenting with handling changes.
I put some A6's with camber plates and adj sway bars. My last event I the gauges registered 1.32 at an autox.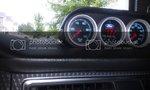 Does that number seem about right with Hoosiers for anybody with a gauge? I'm curious as to what numbers others are seeing on road courses & autox courses. (Not just going out and whipping the car trying to get a max, unrealistic reading.)
Does anybody use the gauge to experiment with handling changes? If not, what other devices do you do to experiment with suspension and tire changes to to verify you're going in the right direction (Other than seat of the pants.)
Thanks