Finally got around to polishing out the wife's Explorer. It wasn't in terrible shape but had normal light swirling. There was a pretty bad spot on the rear driver's quarter and then on the back bumper top where she keeps dragging the stroller over the paint.
Let's just say I love this Rupes guys. No WAY I would have done the Explorer with a PC. I'm far too lazy. Got my Lake Country Orange pads and M205 and literally spend 2 minutes per panel TOPS. It's probably 98% right now. Put a coat of 22PLE on it too. Gonna clean the glass and do Opti-glass tomorrow so I'll have more pics.
If any of you are wondering about what you can get out of even M205 here's some pics of the bad part.
These scratches were probably 6" long but the camera will only capture what's visible in the light.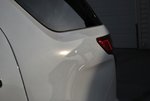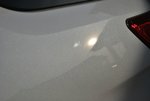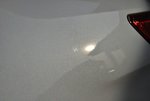 After a couple mins with the Orange pad and M205