Remove the four plastic pins in the front of the grille on top, the four pins on the black plastic radiator cover and remove it. Then removed the two bolts on top between the headlight and grille.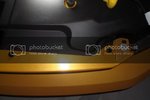 Then you will see six tabs on the bottom and two on each side. I started by lifting upward on the bottom tabs and pulling the grille out a little bit but the tabs do not clear the hold downs at this point. I did this since the side tabs are a tad more difficult to release and it helped by not having them snap back in place as you go.
Next pull the two side tabs toward the center of the car and pull the grille forward. One side is off now go to the other side and do the same then release the bottom six tabs fully and you are done. The tabs on the right side are a little harder to get at, I use a long flat head screwdriver taped at the head to avoid damage.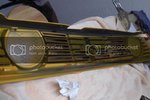 Bottom two middle tabs looking down. If you blow up the picture above you will see what I mean by unhooking the tabs.