Went and found a second region to run autocross with. Southern Indiana Region guys. First time out at their place today. Little different flow than I was used to but it went well.
At Rantoul, we normally start first car off at 9:30 and do a morning heat of 5 runs. Then the afternoon we would have another 4-6 depending on time. SIR is 3 runs first session and 3 more after lunch.
Looking over my previous events and knowing myself. I have a habit of starting off conservative and slowly getting faster. Usually my 8th-10th runs have been my fastest. With the smaller number of runs I wanted to focus on starting stronger.
Course layout was one of the fastest I have ran. I got caught up with my braking points coming out of a slolam at 68mph to meet a very sharp right hand turn.... Had to pop my bumper back into place after it ate those cones. So first run DNF'd.
Next run went at it again but with an earlier braking point for the turn I bombed. I churned out a 43.683 which was solid enough to have me sitting 9th overall for raw and pax after for the 1st session runs.
Third run. Good hard run. Bombed the same turn as earlier. At least I had one solid run in. Still was pretty happy to be holding 9th.
Starting the 2nd session clouds are getting dark the msytical westher gurus claim rain at 3:15pm. Hopefully ee can get done in it.
Solid 4th run at 44.000. Line up for 5th run, the rain looks close. Launch and about 10 seconds into the run, the rain hits. I havn't had any experience with active rain autocrosses yet. Nerves got the best of me and I ran a 45.xxx. it then proceeded to downpoor for the next 5-10 minutes. Pulling back up for my last run the rain has stopped but the the course is soaked. Run seemed alright until I came into the brake zone for a 180 turn. And it was a puddle big enough I surfed right off the course. Lesson learned. Overall I dropped a few places from the second heat runs but it was still a good day.
On the 2.5h drive back home I am pretty sure my tie rod has gone bad on my passenger side car was feeling very darty, back and forth, with no steering wheel movement. Another project for the list before next event.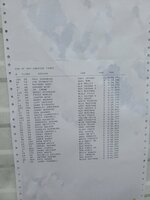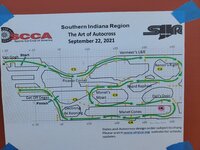 Last edited: